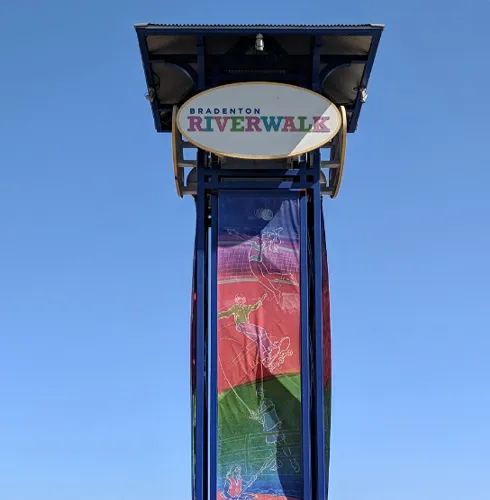 Bradenton, Florida Garage Door Repair
Are you looking for someone that can professionally and affordably service your garage door in Bradenton? Look no further, Quality Garage Door Services is your company!
Bradenton, Florida, offers a variety of fun activities and attractions for residents and visitors to enjoy. Whether you're interested in outdoor adventures, cultural experiences, or simply relaxing by the beach, here are some fun things to do in Bradenton:
Visit the Beaches: Enjoy the beautiful Gulf Coast beaches near Bradenton, such as Anna Maria Island, Coquina Beach, and Bradenton Beach. These beaches are perfect for swimming, sunbathing, and water sports.
Robinson Preserve: Explore this natural preserve with hiking and biking trails, kayaking opportunities, and scenic views of the Manatee River.
Village of the Arts: Stroll through this unique artist colony, where you can explore art galleries, studios, and charming boutiques.
South Florida Museum and Bishop Planetarium: Discover the natural and cultural history of the area, including a fossil exhibit and a planetarium for stargazing.
Riverwalk: Enjoy a leisurely walk or bike ride along the scenic Riverwalk, which offers beautiful views of the Manatee River.
Palma Sola Botanical Park: Explore this 10-acre botanical garden featuring lush plant collections, walking paths, and tranquil settings.
Golfing: Bradenton has several golf courses and country clubs for golf enthusiasts to enjoy.
Manatee Village Historical Park: Step back in time and visit this living history museum, featuring historical buildings and artifacts from the area's past.
De Soto National Memorial: Learn about the Spanish explorer Hernando De Soto and the history of the area with interpretive exhibits and outdoor activities.
Art Galleries: Explore the local art scene by visiting galleries like the ArtCenter Manatee and the Village of the Arts.
Boating and Fishing: Take advantage of the boating and fishing opportunities on the Gulf of Mexico or in the nearby rivers and waterways.
Terra Ceia Preserve State Park: Go hiking or birdwatching in this coastal preserve, which offers nature trails and scenic views of Tampa Bay.
Sarasota Jungle Gardens: Just a short drive away, this attraction features a variety of animals, including flamingos, parrots, and reptiles.
Food and Dining: Sample the local cuisine by trying fresh seafood or visiting one of the many restaurants in the area. Be sure to try the local seafood, including the famous stone crab claws.
Farmers' Markets: Check out the local farmers' markets to find fresh produce, artisanal products, and unique crafts.
Community Events: Stay informed about local events and festivals, which often include art fairs, music concerts, and cultural celebrations.
Bradenton offers a mix of natural beauty and cultural experiences, making it an ideal place for outdoor enthusiasts and those who appreciate art and history. Whether you're looking for a relaxing day at the beach, an educational museum visit, or an adventure in nature, there are plenty of fun activities to enjoy in Bradenton and the surrounding areas.
We love the Bradenton community and hope we can help you with all of your garage door related needs.
AFFORDABLE GARAGE DOOR REPAIR NEAR ME
Family owned, Local Small business
Honest, Friendly, Helpful, Fair Priced
Prompt, Professional, Clean
We Will Get Your Garage Door Ready For The Next Hurricane
Specialize in hurricane rated garage door sales, installation
We provide hurricane hits for your existing garage door
Make sure you hire a licensed company who pulls permits for hurricane doors
Local Services in Bradenton, Florida
Plumbing
picard & sons plumbing
8403 14th Ave NW, Bradenton, FL 34209
(941) 773-1039
picardandsonsplumbing.com
Wyman Plumbing
3002 Cortez Rd W, Bradenton, FL 34207
(941) 755-1595
wymanplumbing.com
Quality Plumbing
3107 29th Ave E UNIT B, Bradenton, FL 34208
(941) 379-9070
qualityplumbingbradenton.com
Clean Up, Restoration Services
PuroClean of Bradenton
4654 FL-64 #115, Bradenton, FL 34208
(941) 877-2288
puroclean.com
Flood Pros USA
4320 15th St E Suite C, Bradenton, FL 34208
(941) 404-2600
floodprosusa.com
AmPm Restoration Services LLC
4301 32nd St W # B16, Bradenton, FL 34205
(941) 946-7807
www.ampmrestorations.com
HVAC, Air Conditioning
AC1 Heating and Cooling
3103 29th Ave E, Bradenton, FL 34208
(941) 300-0889
callac1.com
Air & Heat Inc
502 36th St W, Bradenton, FL 34205
(941) 750-6313
airandheatinc.net
Bahama Breeze Heating & Cooling, LLC
4654 FL-64 Suite 417, Bradenton, FL 34208
(941) 704-1050
bahamacoolbreeze.com
Pool Services
Mr. Depend A Pool
7511 19th Ave Dr W, Bradenton, FL 34209
(941) 795-7500
mrdependapool.com
Gold Bradenton Pool Service
1115 Tamiami Trail, Bradenton, FL 34205
(941) 222-1813
goldbradentonpoolservice.com
Coastal Elite Pools and Spa
6705 35th Ave W, Bradenton, FL 34209
(941) 545-4545
Quality Garage Door Service -
Tampa #1 Garage Door Company