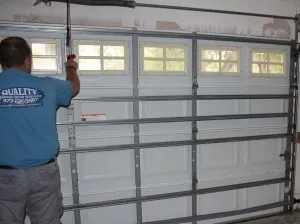 Garage Door Installation
Garage door installation for both residential and commercial overhead garage doors must be done very precisely and carefully. Someone that installs garage doors should have years of experience and know every detail about installing a garage door. Because a garage door opens so many times per week and even per day, garage door installation must be done absolutely perfectly so that you wont have problems for a very long time. The last thing you need is to think about your garage door or worry if it is going to open or close or even be noisy and squeaky.
Garage door installation done wrong can also be very dangerous. It is the largest moving object in your home and you need it to work perfectly every time you hit that button. The average garage door weighs 400 pounds and if your garage door installation isn't done with extreme precision then over time, your door will fail to work and open/close properly. It could even fall and damage valuable property like your car or even worse it could severely hurt someone.
Did you know that every garage door that is installed in the state of Florida requires pulling a permit? Most people dont. Quality Garage Door Services of Tampa is fully Licensed in the State of Florida which is required of EVERY legitimate garage door service company in Florida. Then when we install a garage door, we always pull a permit. We can proudly state that we know the standards that need to be met and know that an inspection will show our doors are installed with perfection. Also, you will not be fined unlike the customer who hires an unlicensed garage door company to perform garage door installation without a permit.
Call us today for the absolute best garage door installation in Tampa. We look forward to serving you. Give us a call and allow us to earn your business and your trust.
Quality Garage Door Services -
Tampa #1 Garage Door Company