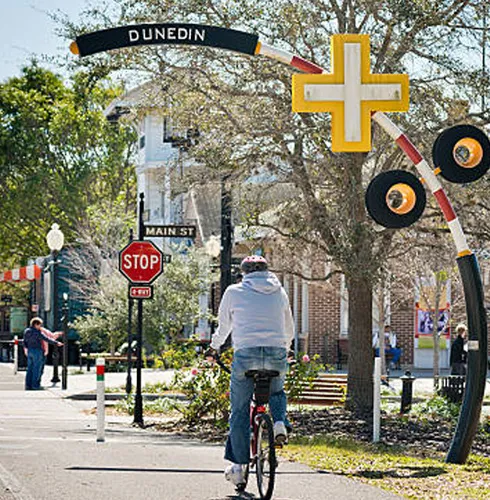 Dunedin, Florida Garage Door Repair
Quality Garage Door Services is Dunedin's choice for garage door and garage door opener repair. Call us if you ever need help with any garage door related issues.
Dunedin is a charming city located on the west coast of Florida in Pinellas County. Known for its historic downtown, beautiful waterfront, and Scottish heritage, Dunedin offers a unique blend of culture, outdoor activities, and a laid-back coastal lifestyle. Here's an overview of Dunedin:
Location: Dunedin is situated on the Gulf of Mexico, just north of Clearwater and west of Tampa. Its location provides access to the stunning Gulf Coast beaches.
Historic Downtown: Dunedin's downtown area is vibrant and historic, featuring a Main Street with shops, restaurants, and art galleries. It's known for its quaint, pedestrian-friendly atmosphere.
Honeymoon Island State Park: Located just off the coast of Dunedin, Honeymoon Island is a popular destination for outdoor enthusiasts. It offers sandy beaches, nature trails, and a chance to see wildlife, including osprey and eagles.
Caladesi Island State Park: Accessible by ferry from Honeymoon Island, Caladesi Island is an unspoiled barrier island with pristine beaches and natural beauty.
Parks and Recreation: Dunedin has numerous parks, including Hammock Park, which features nature trails and boardwalks through a natural preserve. The city's Pinellas Trail is popular for biking and walking.
Dunedin Causeway: This scenic causeway connects Dunedin to Honeymoon Island and is a favorite spot for fishing, windsurfing, and watching the sunset.
Dunedin Marina: The marina is a hub for boating and fishing enthusiasts, with boat ramps and a waterfront restaurant.
Cultural and Arts Scene: Dunedin has a thriving arts community, with art festivals, galleries, and cultural events throughout the year.
Holidays and Festivals: The city hosts various events, including the Dunedin Highland Games & Festival, Mardi Gras celebration, and the popular Dunedin Seafood Festival.
Education: Dunedin is served by the Pinellas County School District, providing public education options. There are also private and charter schools in the area.
Shopping and Dining: The city offers a variety of shops and restaurants, particularly in its downtown district. You can find everything from boutiques to seafood restaurants.
Golf: For golf enthusiasts, Dunedin Golf Club is a historic and highly regarded course.
Community Services: Dunedin provides essential services, including public safety, libraries, and recreational programs.
Medical Services: The city is near medical facilities and hospitals to meet healthcare needs.
Dunedin is known for its tight-knit community, outdoor recreational opportunities, and a strong emphasis on preserving its natural beauty. It's an ideal place for those who appreciate a small-town atmosphere with access to the Gulf Coast's beautiful beaches and outdoor adventures. The city's Scottish heritage is celebrated throughout the year, adding a unique cultural touch to the community. Whether you're interested in exploring natural beauty, enjoying cultural events, or just relaxing by the water, Dunedin has something to offer.
AFFORDABLE GARAGE DOOR REPAIR NEAR ME
Family owned, Local Small business
Honest, Friendly, Helpful, Fair Priced
Prompt, Professional, Clean
We Are Family Owned, Born And Raised In Florida!
Support Local, Small Business in Florida
We are garage door specialists who take pride in our work
Honest, fair, no pressure, friendly customer service
Local Services in Dunedin, Florida
Restaurants
Bon Appetit Restaurant and Bar
148 Marina Plaza, Dunedin, FL 34698
(727) 733-2151
Crown and Bull
319 Main St #5733, Dunedin, FL 34698
crownandbull.com
(727) 736-5284
The Dunedin Smokehouse
471 Main St, Dunedin, FL 34698
(727) 736-2227
Gas Stations
Shell
1625 Main St, Dunedin, FL 34698
(727) 736-3606
Sunoco Gas Station
3000 Belcher Rd, Dunedin, FL 34698
(727) 736-4355
St George Gas Service
2000 Bayshore Blvd, Dunedin, FL 34698
(727) 734-1155
Municipal
Dunedin City Hall
737 Louden Ave, Dunedin, FL 34698
(727) 298-3000
Dunedin Public Library
223 Douglas Ave, Dunedin, FL 34698
(727) 298-3080
Dunedin Fire Department
1042 Virginia St, Dunedin, FL 34698
(727) 298-3102
Real Estate
Celtic Realty
1130 Pinehurst Rd, Dunedin, FL 34698
(727) 412-8558
Homefront Realty
537 Douglas Ave Unit 13, Dunedin, FL 34698
(727) 474-4223
homefrontrealty.com
Dave Doherty w/ Tom Tucker Realty
856 Oxford Ct, Dunedin, FL 34698
(727) 639-2371
Quality Garage Door Service -
Tampa #1 Garage Door Company