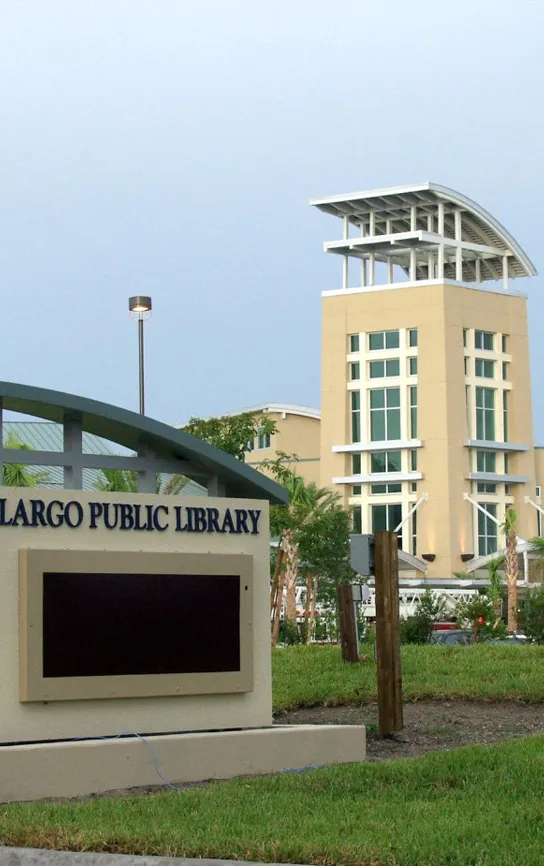 Largo, Florida Garage Door Repair
If you live in Largo, Florida and need residential or commercial garage door service, please give Quality Garage Door Services a call today. We would love to earn your business!
Largo is a city located in Pinellas County, Florida, on the Gulf Coast of the state. It is part of the Tampa Bay area and is known for its suburban atmosphere and a range of amenities. Here's an overview of Largo:
Location: Largo is situated in the heart of Pinellas County, making it centrally located within the Tampa Bay metropolitan area. It is close to neighboring cities such as Clearwater and St. Petersburg.
Parks and Recreation: Largo offers numerous parks and recreational facilities, including Largo Central Park, which features walking trails, playgrounds, and a performing arts venue. The city also has several sports complexes and community centers.
Largo Central Park:
This park hosts various events and festivals throughout the year, including the Largo Central Park Fine Arts Festival, which showcases local and regional artists.
Education: Largo is served by the Pinellas County School District, offering public education options for students. Additionally, there are private and charter schools in the area.
Housing: Largo offers a diverse range of housing options, from single-family homes to apartments and condominiums. The housing market accommodates various budgets and lifestyles.
Employment Opportunities: The city has a mix of businesses and commercial areas, providing job opportunities for residents. Largo also has its own industrial and business park.
Shopping: Largo boasts a variety of retail centers and shopping areas, including Largo Mall and various local shops and boutiques.
Medical Services: Largo is home to several healthcare facilities and hospitals, ensuring residents have access to medical services.
Transportation: The city is well-connected by major roadways and is served by the Pinellas Suncoast Transit Authority (PSTA), offering public transportation options.
Community Services: Largo provides essential services, including public safety, libraries, and recreational programs to meet the needs of its residents.
Cultural Events: The city hosts a range of cultural events and activities, such as concerts, art shows, and holiday celebrations.
Gulf Coast Beaches: Largo is near the beautiful Gulf Coast beaches, making it easy for residents to enjoy sun, sand, and water activities.
Largo is known for its suburban lifestyle with a variety of amenities and a family-friendly atmosphere. It offers a balance between a quiet, community-oriented environment and access to the cultural and recreational opportunities of the Tampa Bay region. The city's central location makes it convenient for residents to explore nearby cities and attractions, and its proximity to the Gulf of Mexico provides opportunities for beach lovers and outdoor enthusiasts.
Call Quality today for Largo residential and commercial garage door repair. We sell and install LiftMaster garage door openers as well.
AFFORDABLE GARAGE DOOR REPAIR NEAR ME
Family owned, Local Small business
Honest, Friendly, Helpful, Fair Priced
Prompt, Professional, Clean
Call Today For Low, Affordable Prices On Garage Doors And Openers
Need a cheap new door or want to upgrade to a luxury, custom garage door?
Replace that old, noisy, clunky garage door opener today!
We do professional repairs and broken spring replacements daily
Local Services in Largo, Florida
Restaurants
Roosterfish Grill
776 Missouri Ave N, Largo, FL 33770
www.roosterfishgrill.com
(727) 584-5888
Largo Family Restaurant
788 Missouri Ave N, Largo, FL 33770
www.largofamilyrestaurant.com
(727) 584-7330
Golden Bear Restaurant
12540 Starkey Rd, Largo, FL 33773
(727) 586-5131
Municipal
Largo Fire Rescue Station 38
7630 Ulmerton Rd, Largo, FL 33771
(727) 587-6714
City of Largo, City Hall
201 Highland Ave, Largo, FL 33770
(727) 587-6700
Largo Code Enforcement
201 Highland Ave, Largo, FL 33770
(727) 587-6799
Hotels
Home2 Suites by Hilton Largo
10145 Ulmerton Rd, Largo, FL 33771
(727) 501-0001
Hampton Inn & Suites Largo
100 E Bay Dr, Largo, FL 33770
(727) 585-3333
Holiday Inn Express & Suites Largo
210 Seminole Blvd, Largo, FL 33770
(727) 581-3900
Real Estate
Keller Williams Gulfside Realty
801 W Bay Dr Suite 200, Largo, FL 33770
kellerwilliamsgulfside.com
(727) 489-0800
Eagle Crest Realty
12995 110th Ave N, Largo, FL 33774
www.eaglecrestrealtyflorida.com
(727) 393-5500
Island in the Sun Realty
1001 Starkey Rd STE 1, Largo, FL 33771
www.islandinsun.com
(727) 523-1810
Quality Garage Door Service -
Tampa #1 Garage Door Company