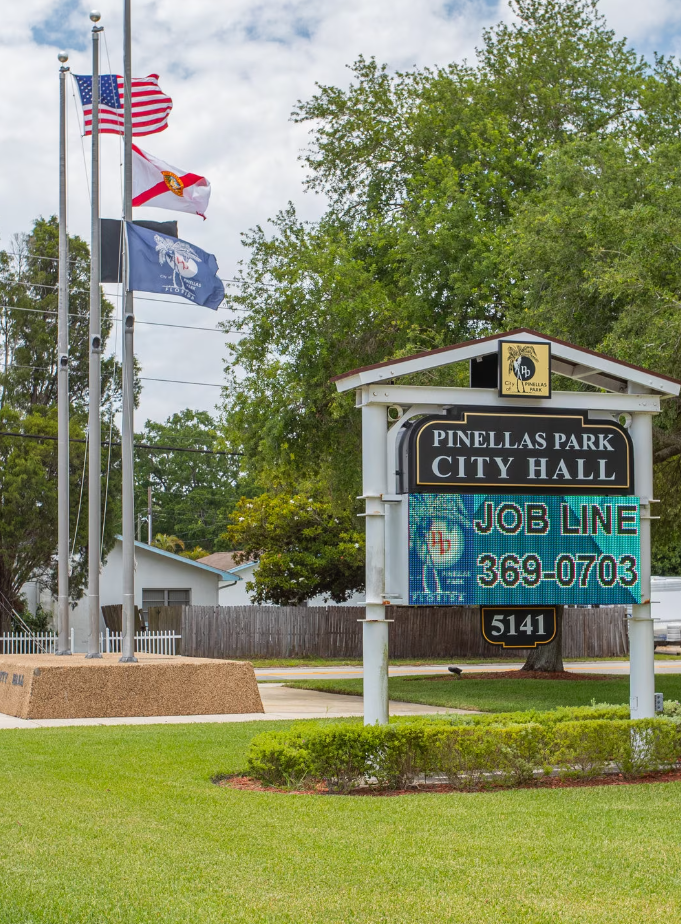 Pinellas Park, Florida Garage Door Repair
Are you looking for a family owned, low cost garage door company that delivers 5 star service? If you are in Pinellas Park and need garage door repair, we would love to help! Pinellas Park is a city located in Pinellas County, Florida, in the Tampa Bay area. It is a suburban community with a diverse population and a range of amenities and attractions. Here's an overview of Pinellas Park:
Location: Pinellas Park is centrally located within the Tampa Bay area, making it convenient for residents to access nearby cities like St. Petersburg and Tampa.
Parks and Recreation: The city has several parks and recreational facilities, including Helen Howarth Park and England Brothers Park, which offer playgrounds, walking trails, and space for outdoor activities.
Cultural Events: Pinellas Park hosts a variety of cultural events and festivals, such as the annual Country in the Park festival, which features live music, food vendors, and family-friendly activities.
Shopping: The Shoppes at Park Place is a shopping center in Pinellas Park that includes various retail stores and restaurants.
Education: Pinellas Park is served by the Pinellas County School District, which provides public education options. There are also private and charter schools in the area.
Housing: Pinellas Park offers a range of housing options, from single-family homes to apartment complexes. The housing market varies, providing choices for different budgets and lifestyles.
Employment Opportunities: The city is home to various businesses and commercial areas, offering job opportunities to its residents.
Accessibility: The city is well-connected by major roadways, making it easy to access neighboring cities and attractions.
Community Services: Pinellas Park provides essential services, such as public safety, healthcare, and libraries, to support its residents' needs.
Recreational Activities: In addition to parks, the city offers recreational programs and activities for all ages, including sports leagues, fitness classes, and cultural events.
Pinellas Park is known for its family-friendly atmosphere and a variety of amenities that cater to both residents and visitors. It offers a suburban lifestyle with access to the natural beauty of the Tampa Bay area, including nearby beaches, as well as the cultural and entertainment opportunities available in the larger Tampa Bay metropolitan region. It's a city where residents can enjoy a balance of community-oriented living and easy access to the attractions and employment opportunities of the surrounding region.
AFFORDABLE GARAGE DOOR REPAIR NEAR ME
Family owned, Local Small business
Honest, Friendly, Helpful, Fair Priced
Prompt, Professional, Clean
Garage Doors, Garage Door Openers, Overhead Garage Door Remotes
Repair, Sales, Installation, Replacement, Programming
Courtesy, Cleanliness, Thorough, Helpful
Professional, Friendly, Knowledgeable, Pleasant
Local Services in Pinellas Park, Florida
HVAC, Air Conditioning
Joe Cool Air Conditioning and Plumbing
7308 56th St, Pinellas Park, FL 33781
(727) 888-6962
joecoolair.com
Gulf Coast Heating & AC
6331 39th St N Unit 100, Pinellas Park, FL 33781
(727) 655-9439
gulfcoastacservices.com
Harrington Air Conditioning
7840 62nd St N, Pinellas Park, FL 33781
(727) 541-5222
harringtonac.com
Roofing
Baldwin Roofing Company
3520 66th Ave N, Pinellas Park, FL 33781
(833) 217-7663
baldwinroofing.com
Shon Boswell Roofing
6358 49th St N, Pinellas Park, FL 33781
(727) 425-4718
shonboswellroofing.com
Drew Roofing Inc.
6401 49th St N, Pinellas Park, FL 33781
(727) 522-3739
drewroofing.com
Landscape
Westcoast Landscape & Lawns
3880 76th Ave N C, Pinellas Park, FL 33781
(727) 585-0697
westcoastlawns.com
Aldo's Lawn Service and Tree Service
8380 59th Way, Pinellas Park, FL 33781
(727) 235-5293
www.aldoservice.com
A Stellar Property Maintenance
5300 70th Ave N, Pinellas Park, FL 33781
(727) 827-2981
a-stellarproperty.com
Child Care
The Sprout Academy
6552 84th Ave, Pinellas Park, FL 33781
(727) 545-9944
the-sprout-academy.com
Magnolia Day School of North Saint Petersburg
7510 Park Blvd, Pinellas Park, FL 33781
(727) 623-9963
magnoliadayschool.com
Happy Days Academy, LLC
6881 40th St N, Pinellas Park, FL 33781
(727) 525-9049
happydaysacademy.com
Quality Garage Door Service -
Tampa #1 Garage Door Company