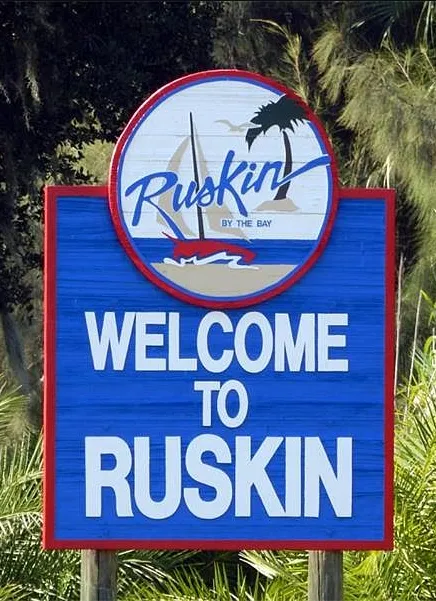 Ruskin, Florida Garage Door Repair
Ruskin is a small unincorporated community located in Hillsborough County, Florida, along the Gulf Coast. It's known for its rural charm, waterfront access, and proximity to both Tampa and St. Petersburg. Quality Garage Door Services is proud to offer same day garage door repair in Ruskin. Here's an overview of Ruskin:
Location: Ruskin is situated on the eastern shore of Tampa Bay, providing residents with easy access to the bay and the Gulf of Mexico. It is conveniently located between Tampa to the north and Bradenton to the south.
Agricultural Heritage: Ruskin has a strong agricultural heritage and is known for its ties to farming and agribusiness. The community's history includes being a center for tomato farming in the early 20th century.
Rural Atmosphere: Ruskin maintains a more rural and laid-back atmosphere compared to nearby urban areas. It's an attractive place for those who prefer a quieter and more rustic environment.
Little Manatee River State Park: The area is home to the Little Manatee River State Park, a natural preserve with hiking trails, camping, and opportunities for kayaking and wildlife observation.
Waterfront Access: With its proximity to Tampa Bay, residents have access to boating, fishing, and water activities. There are marinas and boat ramps in the area.
Schools: Ruskin is served by the Hillsborough County Public School District, which provides public education options for students. Additionally, there are private schools in the area.
Outdoor Activities: The community is a great place for outdoor enthusiasts, with parks, nature trails, and opportunities for birdwatching and hiking.
Safety: Ruskin is known for being a relatively safe community, providing peace of mind for residents.
Local Businesses: The community has local businesses, shops, and restaurants that cater to residents' needs and offer a taste of local flavor.
Proximity to Tampa and St. Petersburg: Ruskin's location allows for convenient access to the larger urban areas of Tampa and St. Petersburg, where residents can find additional job opportunities, cultural attractions, and services.
Ruskin's rural charm, agricultural heritage, and proximity to natural beauty make it an appealing place for those seeking a quieter and more rustic lifestyle. It provides residents with access to water-based activities, outdoor adventures, and a close-knit community. While Ruskin maintains its rural character, it's also within reach of the larger urban centers of the Tampa Bay area, making it a suitable choice for those who appreciate the best of both rural and urban worlds.
AFFORDABLE GARAGE DOOR REPAIR NEAR ME
Family owned, Local Small business
Honest, Friendly, Helpful, Fair Priced
Prompt, Professional, Clean
Expert Overhead Garage Door Repair And Spring Replacement
Low Prices with Same Day Service
Hurricane Rated Garage Doors with Permit Up to Code
Professional Installation with Friendly, Knowledgeable Techs
Local Services in Ruskin, Florida
HVAC, Air Conditioning
Cool Down Air Conditioning & Heating
1423 Golden Glow Dr, Ruskin, FL 33570
cooldownair.com
(941) 549-9998
Hank's Heating & Cooling
1011 Ocean Spray Dr, Ruskin, FL 33570
hanksheatingcooling.com
(813) 538-6457
Moreno Heating and Cooling LLC
606 1st Ave NE, Ruskin, FL 33570
morenoheatingandcooling.com
(813) 728-2403
Restaurants
Sunset Grill and Beach Bar
602 Bahia Del Sol Dr, Ruskin, FL 33570
www.sunsetgrillfl.com
(813) 607-2900
Lazy Gator Ruskin LLC
102 W Shell Point Rd, Ruskin, FL 33570
lazygatorruskin.com
(813) 419-4841
The Hot Tomato
2702 E College Ave, Ruskin, FL 33570
thehottomato.com
(813) 938-1888
Hotels
Holiday Inn Express & Suites Ruskin
226 Teco Rd, Ruskin, FL 33570
www.ihg.com
(813) 922-4561
Ruskin Inn Tampa
3113 College Ave, Ruskin, FL 33570
www.ruskin-inn.com
(813) 641-3437
Hampton Inn & Suites Ruskin
711 33rd St SE, Ruskin, FL 33570
www.hilton.com
(813) 213-8005
Real Estate Professionals
Ralph Martinez, REALTOR
465 N U.S. Hwy 41, Ruskin, FL 33570
www.ralphmartinezrealtor.com
(813) 784-6061
Donnell Weaver-Broker/Owner-Weaver Real Estate Inc.
1185 Anchor Bend Dr, Ruskin, FL 33570
homesbyweaverrealestate.com
(727) 488-3764
Blue Orchid Realty
205 W Shell Point Rd, Ruskin, FL 33570
www.bluorchidrealty.com
(813) 516-8221
Quality Garage Door Service -
Tampa #1 Garage Door Company