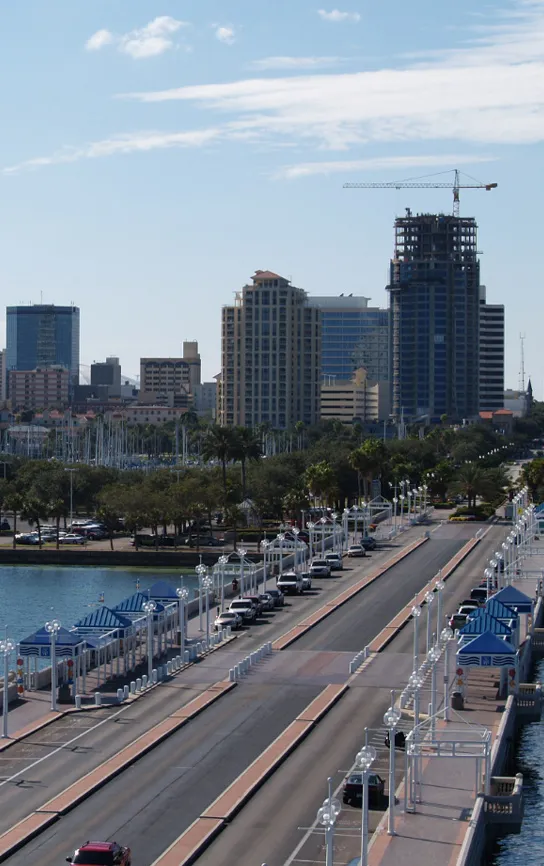 St. Petersburg, Florida Garage Door Repair
Are you looking for a good garage door company that is honest, affordable and professional? Quality Garage Door Services provides 5 star garage door repair and service for all St. Petersburg! St. Petersburg is a city located on the west coast of Florida, in Pinellas County. It is part of the Tampa Bay area and is known for its beautiful waterfront, cultural attractions, and vibrant arts scene. Here are some key highlights of St. Petersburg, Florida:
Waterfront Living: St. Petersburg is known for its stunning waterfront views and access to Tampa Bay and the Gulf of Mexico. The city boasts numerous parks, beaches, and marinas, making it a popular destination for water enthusiasts.
The Dali Museum: St. Petersburg is home to The Dali Museum, which houses one of the most extensive collections of Salvador Dali's works outside of Europe. The museum is a must-visit for art lovers.
Cultural Scene: The city has a thriving cultural scene, with numerous art galleries, theaters, and cultural events throughout the year. The Chihuly Collection, featuring the glass art of Dale Chihuly, is another notable cultural attraction.
Downtown St. Petersburg: The vibrant downtown area is a hub of activity, offering a wide range of dining options, shops, and entertainment venues. Central Avenue and Beach Drive are popular streets for exploring the city's culinary and cultural offerings.
Boating and Outdoor Activities: St. Petersburg provides ample opportunities for boating, fishing, kayaking, and other outdoor activities, thanks to its proximity to the water.
Sunken Gardens: These historic botanical gardens feature lush plant life, waterfalls, and walking paths, providing a serene escape within the city.
Fort De Soto Park: A beautiful park with pristine beaches, nature trails, and historical fortifications, Fort De Soto Park is a popular spot for picnicking and birdwatching.
Economic Opportunities: The city has a diverse economy with opportunities in various industries, including healthcare, tourism, and technology.
Education: St. Petersburg offers a range of educational options, from public and private schools to nearby colleges and universities.
Sports: Residents can enjoy watching Tampa Bay Rays baseball games at Tropicana Field or attending other sports events and concerts at the stadium.
Climate: St. Petersburg benefits from a warm, sunny climate, making it a year-round destination for outdoor activities.
Nightlife: The city's nightlife scene includes a variety of bars, clubs, and live music venues for those who enjoy evening entertainment.
St. Petersburg's combination of natural beauty, cultural attractions, and a warm climate make it a desirable place to live and visit. It attracts a diverse population, from retirees and art enthusiasts to young professionals seeking a lively urban environment with access to outdoor adventures. Whether you're interested in arts and culture, outdoor recreation, or simply enjoying the beach, St. Petersburg has something to offer.
Please give us a call as we hope we can earn your business and make Quality Garage Door Services your go-to company to call for all your garage door needs.
AFFORDABLE GARAGE DOOR REPAIR NEAR ME
Family owned, Local Small business
Honest, Friendly, Helpful, Fair Priced
Prompt, Professional, Clean
Its Time To Fix That Garage Door!
We will make it easy and affordable to get your garage door back in action
Our work is guaranteed and we provide long lasting, quality parts
Let us optimize the largest moving object in your entire home
Local Services in St. Petersburg, Florida
Painting
Bill Riley Painting
7833 9th Ave S, St. Petersburg, FL 33707
(727) 381-1975
Pinellas County Painting Inc
7852 Causeway Blvd S, St. Petersburg, FL 33707
(727) 409-6541
pinellascountypainting.com
Novell Painting LLC
950 57th St N, St. Petersburg, FL 33710
(727) 412-4403
novellpainting.com
Home Remodeling
Moore Creative Construction, LLC
3150 23rd Ave N, St. Petersburg, FL 33713
(727) 440-9190
moore-creative.com
Suncoast Custom Builders
5110 8th Ave N, St. Petersburg, FL 33710
(727) 320-7323
suncoastcustombuilders.com
Grand Kitchen and Bath
2600 4th St N, St. Petersburg, FL 33704
(727) 327-3007
grandkitchen.com
Mechanic, Auto Body
Affordable Mechanics of America
2900 5th Ave N, St. Petersburg, FL 33713
(727) 289-1149
affordable-mechanics.com
Andy's Automotive, Inc.
2800 5th Ave S, St. Petersburg, FL 33712
(727) 321-6414
andys-automotive.com
Mike's Affordable Auto Repair
4700 Haines Rd N, St. Petersburg, FL 33714
(727) 565-6000
mikesaffordableautorepair.com
Pool Service
Aqua Wizard Pool Service
3517 Haines Rd N, St. Petersburg, FL 33704
(727) 906-6276
aquawizardpoolservice.com
sammie porch pool service llc
4675 19th Ave S, St. Petersburg, FL 33711
(727) 906-7282
sammieporchpoolservicellc.com
Paradise Pool Service
7912 51st Ave N, St. Petersburg, FL 33709
(727) 239-5772
paradisepoolsservices.com
Quality Garage Door Service -
Tampa #1 Garage Door Company